Clay Robinson
Favourite Thing: Go outside, look, watch, listen, touch, and wonder. Then think about and test ideas on how physics, chemistry, biology, ecology, and earth sciences can be used to explain what I saw, and how they work together to keep the ecosystems going.
My CV
Education:
West Texas State University: BS 1980-1984; MS 1986-1988; Iowa State University: PhD 1988-1992
Qualifications:
Certified Professional Soil Scientist; Licensed Professional Geoscientist (Texas); Certified Crop Adviser
Work History:
ARCO Seed Company 1984-1985; Eastern New Mexico University 1992-1994; West Texas A&M University 1994-2011; Stetson Engineers Inc. 2011-2014
Current Job:
I am the education manager responsible for coordinating, developing, and delivering continuing education materials for certified professionals in agronomy and soil science.
Employer:
ACSESS: Affiliation of Crop, Soils, and Environmental Science Societies
Me and my work
I am a soil scientist who is passionate about learning and about teaching others about the importance of soil, the foundation of all terrestrial ecosystems!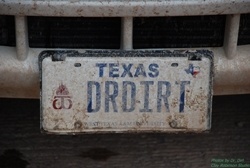 I am a soil scientist first, and an agronomist second; an agronomist studies how to be more effective and efficient at growing plants for food and fiber (used in making clothes).
As a soil scientist I have studied the effects of natural and managed (agriculture) ecosystems on the soil, and the effects of the soil on the ecosystems.
I taught college students about many aspects of soil: fertility and plant nutrition, soil and water conservation, irrigation, profile description, formation and classification, as well as the interaction of soil and plants.
I have studied soils in much of the western United States, describing the soils and classifying them for their potential use in agriculture and in land reclamation.
Currently I am the education manager for the professional societies for agronomists and soil scientists. I develop, coordinate, and deliver continuing education materials for certified professionals in agronomy and soil science.
This fall I will return to being a professor at a university, teaching college students about soil again.
My Typical Day
I have so many different kinds of "typical" days. See the descriptions below.
As a professor, I would teach a two or three different classes in the morning: including an introductory soils or statistics course, and an advanced soils course.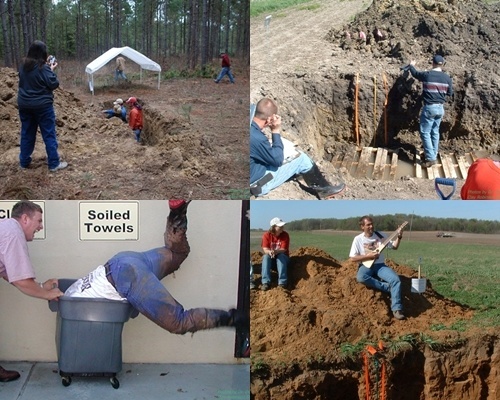 Most afternoons I spent 2 to 4 hours with students in outdoor laboratories, seeing soils in natural ecosystems and in managed agricultural ecosystems, focusing on soil conservation and irrigation management systems. These photos show students describing soils, as well as having a little "dirty" fun.
As an environmental consultant, I did a lot of land classification related to water rights for various Native American tribes in places such as the Northwest New Mexico, Eastern Arizona, the Idaho Panhandle, and North Central Montana. For a typical field day, we would travel to these places and stay in hotels. The day would start at 7 a.m. when we would drive 30 minutes to an hour to a field location. We had a truck with a hydraulic probe and drill. We would take GPS readings to have a latitude/longitude for each soil sample. We collected soil samples to a depth of 1.8 to 2.5 meters, and separate them into 15-cm segments. We would describe the physical properties and sometimes collect samples that would be shipped to a laboratory to verify the chemical properties. We always took large maps with aerial imagery, and would draw lines on the maps to show where the soils were similar and where they changed to another soil. We ate lunch in the field because sometimes we were more than an hour from the nearest cafe. We would stop around 5 p.m. and drive back to the hotel, and have dinner. Then start all over again the next day.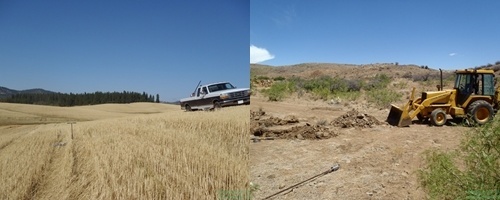 As an environmental consultant, we also had typical office days after we finished the field work. We would go back through all the data sheets we collected and the maps we drew. We would go through all the soil descriptions and verify them for accuracy. Then we would look at our reference materials to make sure all the interpretations we made in the field were correct. We would use that information and stereoscopes to check that the lines on our maps were in the right places. We would incorporate the laboratory test results, and adjust the field interpretations, if necessary. All this information would be input into a geographic information system to generate maps that would go into the reports we wrote to submit to the agency or client who contracted us to do the work.
As the education manager for the American Society of Agronomy and Soil Science Society of America, most of my time is spent in an office. I read magazines and articles that talk about issues farmers around the USA are facing in the balance of growing crops and protecting the environment. I spend a lot of time on the phone and sending emails to consulting agronomists and soil scientists, educators, extension specialists, and research scientists who can address these issues and provide good science and application to meet the continuing education requirements of the certified professionals supported by our Societies: Certified Crop Adviser, Certified Professional Agronomist, Certified Professional Soil Scientist. Once I find all the people, I moderate a webinar to deliver the information to the certified professionals all around the USA.
What I'd do with the money
Money? I committed to this before I knew about the money.
My Interview
How would you describe yourself in 3 words?
Curious. Passionate. Outdoorsman.
Who is your favourite singer or band?
What's your favourite food?
New Mexican food – it differs from other Mexican food in the use of green chiles.
What is the most fun thing you've done?
It's a three-way tie: Climbing mountains with my kids; a Grand Canyon Rim to River hike with my kids; riding >60 kph on a mountain descent on my bike (after riding up)
What did you want to be after you left school?
I did not know what I wanted to be, except that I did not want to stay in the small town where I grew up and went to school. I changed my college major FIVE times as I tried to decide what I wanted to do.
Were you ever in trouble at school?
I annoyed teachers because I could not be still. Since they graded me on spelling and grammar, I would mark their grammar and spelling errors on papers they gave us; that was NOT popular.
What was your favourite subject at school?
Band and math, then physics when I discovered that as a senior in high school.
What's the best thing you've done as a scientist?
Introduce students to soils as an entry-point to getting excited about science and the environment. https://www.youtube.com/watch?v=iavK9ga4UpM
What or who inspired you to become a scientist?
My soils professor in college planted the idea in my mind. He challenged me and challenge me to learn to think like a scientist in order to understand and solve problems.
If you weren't a scientist, what would you be?
A linguist. I have a gift for languages, and would find ways to use that training to travel the world.
If you had 3 wishes for yourself what would they be? - be honest!
1. To visit all 6 habitable continents (Africa and Australia to go). 2. To be at the high point of every state (only 5 so far). 3. Maybe hike the PCT, AT or ride the Tour de France route.
Tell us a joke.
Soil scientists are down-to-earth, well-grounded people who enjoy a "dirty" joke (but never a crude one), though many people have to dig deep to find the humor in these 4 puns,
Other stuff
Work photos:
I have had the opportunity to study soils and agronomy around the USA and world.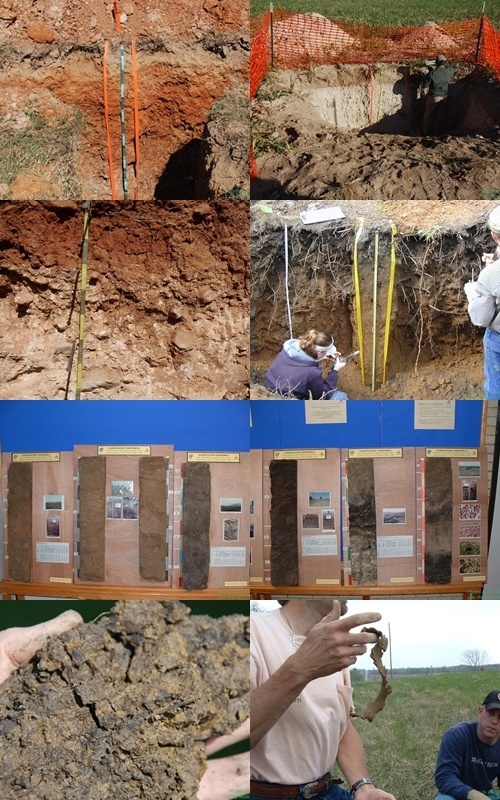 These photos show soils (left to right, top to bottom) from Oklahoma, Texas, New Mexico, Arkansas, two sets of monoliths (vertical cross-sections) from Mexico, with a closeup of an aggregate (groupings of individual soil particles into clumps of various shapes and sizes) in my hand, and a ribbon of a soil with a high clay content.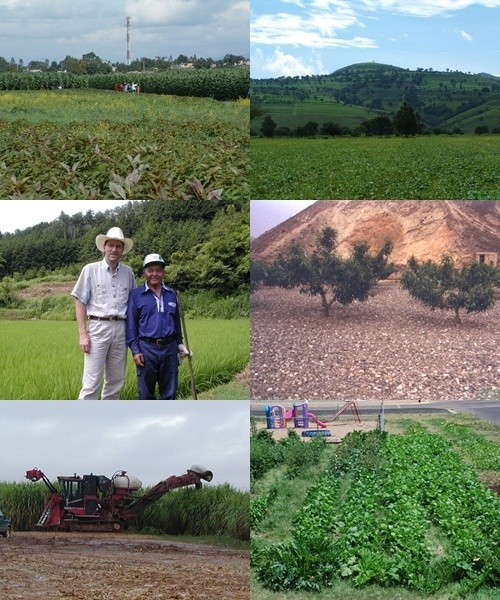 These photos show several crops (left to right, top to bottom): amaranth and maize (corn) at the CIMMYT research station near Mexico City, soybeans in the foreground and maize on the mountain terraces in the Mexico inland plateau (elevation >2000 m), paddy rice and a farmer in Japan, peach trees on a stone-mulched terrace in the Loess Plateau region in western China, sugarcane in Louisiana, and several crops in a community garden in the Texas Panhandle.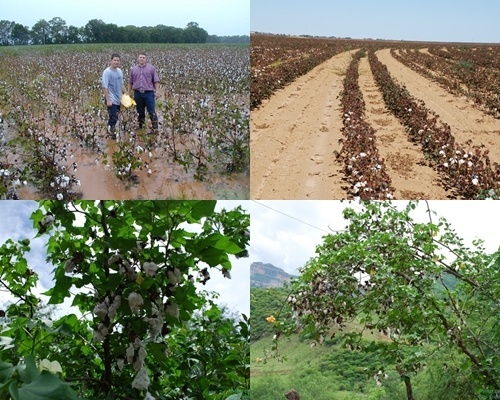 All cotton is cotton, right? Not necessarily. Although most cotton is harvested to make the cloth used in the clothes you wear, it is very different from one place to another. These photos (left to right, top to bottom) long-staple cotton (used to make shirts and other clothes) in Louisiana; short-staple cotton (used to make denim for jeans) near Lubbock, Texas; and cotton trees in Mexico. Cotton is a perennial plant that over the centuries we learned to grow as an annual plant. It is quite difficult to harvest cotton growing >3 m above the ground.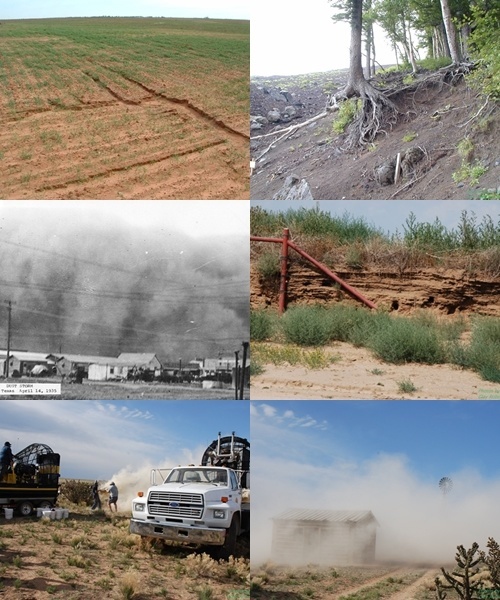 Erosion continues to be a problem around the world. These photos all demonstrate something about erosion (left to right, top to bottom): water erosion in a wheat field in Texas, water erosion that has washed soil away from the tree roots on a hill in Japan; wind erosion on Black Sunday, April 14, 1935 during the Dust Bowl in the USA Southern Great Plains; fence line completely buried by wind erosion in the 1980s – 1990s in the northwestern Texas Panhandle. The last two used two 500 horsepower fans to create a "dust storm" during the filming of "Black Blizzard", a documentary on the Dust Bowl inspired by Timothy Egan's bestseller, "The Worst Hard Time". I had the great opportunity to work on the film as the scientist who explained the soil, agronomy, climate, and government policies that combined to create the greatest environmental disaster in the history of the USA.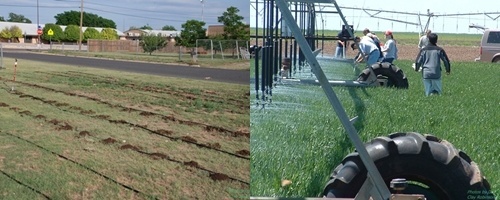 Irrigation is practiced in semiarid and arid regions around the world. These two irrigation systems (left to right) are among the more efficient ones available: drip irrigation (in a community garden in Canyon, TX), and a low-energy, mid-elevation, center-pivot, sprinkler-irrigation system in a field of wheat (in Bushland, TX). A group of students is in the process of evaluating the irrigation efficiency of this system to answer the question, "how much of the water applied is getting to the ground, and is the water distribution equal along the length of the line?"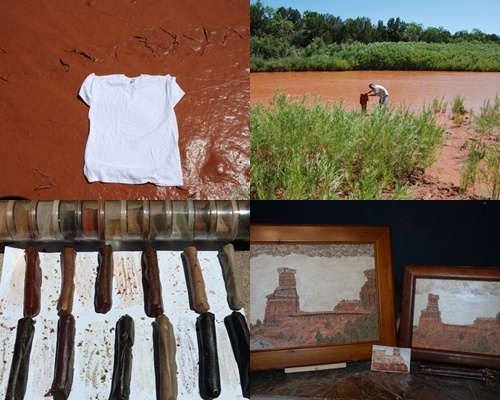 Soil has been used for other purposes throughout the millennia of human existence. It is used in making bricks for building, pottery and glass for cookware and dishes, as an ingredient in some medicines, and as a pigment for clothing and artwork. Soil color is all about chemistry, as much of the color is derived from coatings on the soil particles, and the chemistry is about oxidation and reduction, and hydration status of iron and other metals, forms of organic matter, and the presence of calcium carbonates (often called caliche) or gypsum (calcium sulfates) that are present. These photos (left to right, top to bottom) show a white cotton t-shirt being dyed with the bright red mud of the Double Mountain Fork of the Brazos River (Texas). Once the cotton reacts with the oxidized, anhydrous iron of the soil, though the color will fade, the shirt will never again be white, regardless of how many times it is bleached. A collection of soils of many colors I have collected are shown with some crayons I made with the soil, and with the paintings of the Lighthouse Rock, a formation in Palo Duro Canyon State Park (Te
My profile link:
https://soila16.imascientist.us/profile/clayrobinson/

Print this profile