The Soil Zone was a themed zone funded by the Agronomic Science Foundation gateway fund.
The zone featured scientists working on a range of soil related topics from nodulation in roots to generation of electricity. The zone had 315 participating students from 8 schools. Some teachers had multiple classes take part in the soil zone and class sizes ranged from 13 to over 30 students across grades 4 to 12. Most of the classes had two live chats with the scientists with more live chats taking place in the second week than the first.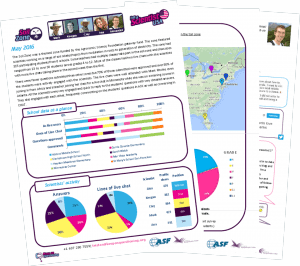 There were fewer questions submitted than other zones but 70% of those submitted were approved and over 80% of the students were actively engaged with the scientists. The live chats were well attended with Mark Ritchie even joining in from Africa. All the scientists were very engaged and quick to reply to the students' questions with very detailed answers. They also engaged with each other, frequently commenting on the students' questions in ASK as well as conversing in CHAT.